Sportstake 8 Predictions
We provide the latest Sportstake 8 fixtures for the next Sportstake pool. We get them directly from the NationalLottery site, and as soon as they are released by them, our system updates automatically. This way we ensure you are only seeing the latest and most up to date Sportstake 8 fixtures. If fixtures are cancelled or postponed, our system updates accordingly.
How do you Play Sportstake?

---
Sportstake 8 is a new game which was introduced by Ithuba recently which is a variation of the popular Sportstake 13 game, where you have to predict the outcome of 13 given fixtures using only three markets which are 1X2, which represents Home, Draw and Away.
Sportstake 8, on the other hand involves 8 fixtures from various leagues which are provided or selected by the National Lottery and the players must predict the outcomes of both halves (first and second half). The Sportstake 8 predictions are based on the 1X2 markets only. We now also have Sportstake 4.
It is important to understand how Sportstake 8 works. For example, If you back Manchester United to win the second half against Barcelona, it means that Manchester United have to outscore Barcelona only in the second half for you to win and the first half or full time results are not considered because the prediction was only for the second half. You therefore need to be careful when placing your bets and you need to understand your teams, For example some teams are slow starters and the usually lose the first half only for them to come back strongly on the second half whilst other teams lead at the half only to lose in the second half. Each Sportstake 8 pool will include the fixture number, the start/opening date, and then list of matches, as can be seen below.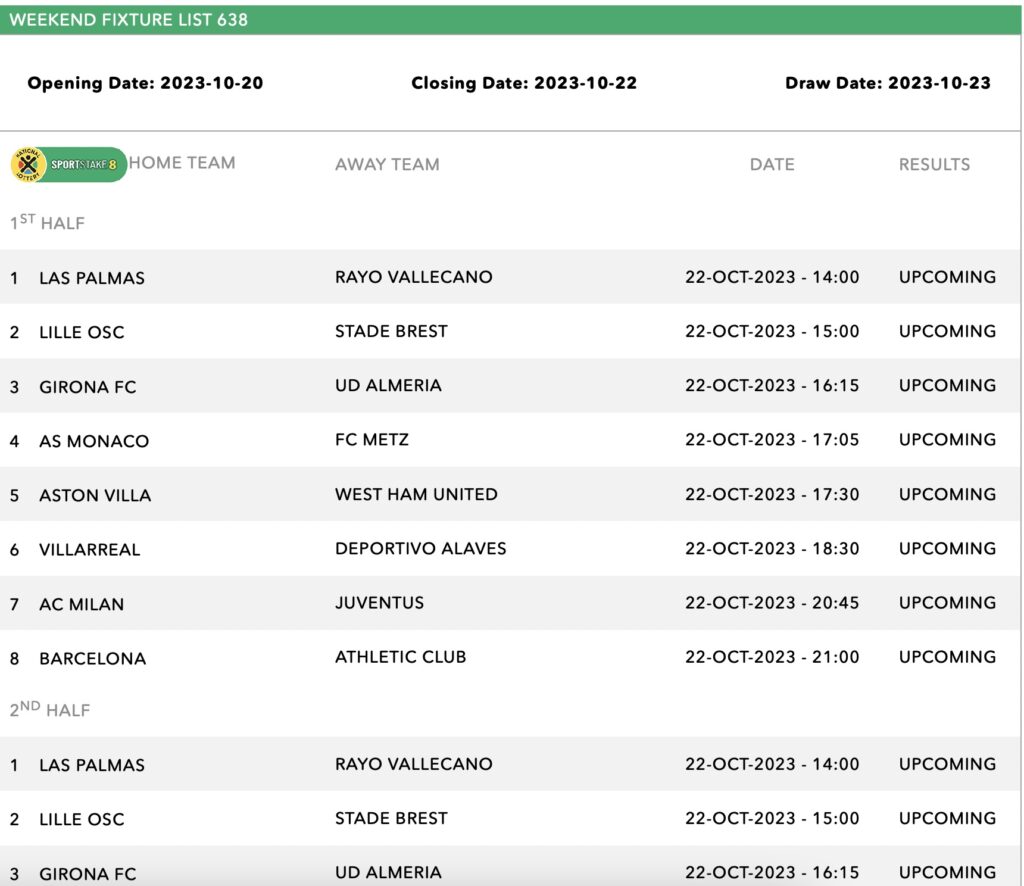 ---
You can play Sportstake 8 by visiting various Ithuba agents spread across South Africa including big supermarkets like Shoprite and PicknPay or you can play online on the National Lotteries website. Playing a single Sportstake 8 board will cost you R2 and if you wish to play a Multi-Play, the number of boards you play will be calculated by R2, that is, you will pay R16 if you play 8 boards.
In order to play Sportstake 8 at any of the Ithuba agents, you need to get hold of the Sportstake 8 fixture list, which can include matches from all major leagues, including the South African Premier League. You must mark your preferred prediction by ticking either with a pen or pencil on the mark box and in the event that you make a mistake, you need to mark the 'Cancel Box' which is on the betslip. Once you are satisfied with your selections , you can proceed to give it to the teller who will assist you and give you a receipt which you must safely keep until the draw has been conducted. Please be sure to write your name at the back of your receipt.
In the event that you are not confident with your selections or maybe you just want to enhance your chances, you can make use of the Sportstake 8 propick feature which will generate boards for you based on random selections and many people have won Sportstake 13 using this amazing feature.
To play Sportstake 8 online, you must be registered with the National Lotteries , something you can easily do on their website by clicking on the 'Register' button. After registering you need to fund your account to start playing. We also have a detailed guide on how to play Sportstake or pool betting vs fixed odds betting.
Sportstake 8 Tips and Predictions
At the moment our Tips for Sportstake 8 are based on full time correct scores. This means that we are at this stage unable to provide accurate sportstake 8 predictions for the first half. However, by using our data that we provide to you for free, you can make your own analysis. For each Sportstake 8 fixture, we provide detailed head2head statistics, data on the previous 5 games each team played, the average number of goals they score in the current season, league position etc. All of these items should assist you in making the best Prediction for all Sportstake 8 fixtures. We make predictions for both teams to score as well as over under 2.5 goals.
Sportstake 8 Payouts
Sportstake 8 has three lists every week on Sunday, Wednesday and Friday with draws for these lists taking place on Wednesday , Saturday and Monday respectively, so you have many opportunities to win Sportstake 8. You do not have to get all the Sportstake 8 predictions right to be a winner as there are 4 prize divisions which means that the jackpot will be shared among people who predict correctly 13 or more outcomes out of the 16 outcomes. See Sportstake 8 Results. The prizes are allocated this way:
Prize Division Prize Division Pool Percentage
16 Matches 40%
15 Matches 20%
14 Matches 15%
13 Matches 25%
You can collect your winnings from various places depending on how much you have won. You can claim prizes up to R2000 from your retail outlets, If you have won between R2000 and R50 000, you can claim your prizes at your nearest Post Office and prizes above R50 000 must be claimed at the Ithuba offices.
Sportstake 8 is a real exciting game and you really need to try it out and you might be able to win big.