LM Bookmaker has 1 or 2 Soccer Pools each day, typically with 6 matches each. They called these soccer pools, Soccer 6 Pack. See Tips for these LM bookmaker Soccer 6 Pack pools below. LM Bookmaker has also launched a second brand called Soccer Shop, and they use that to mainly push soccer betting. The Soccer 6 Pools on Soccer Shop are the same as on LM Bookmaker.
This pool has ended. It will be updated as soon as the new Soccer Pool is announced.
Click here to see match tips for Today's matches
Have you tried Electronic Soccer Betting Yet? Try it today on Hollywoodbets.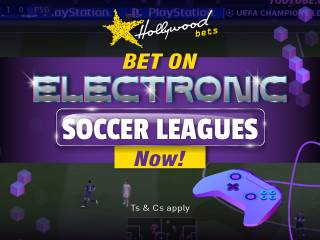 LM Bookmaker was founded by Lance Michael. It was mainly focused around Horse racing, but has now been moving in the direction of soccer betting and lucky numbers betting.
Along with fixed odds soccer betting, LM Bookmaker and SoccerShop offer pool betting. They have a daily pool, with 6 matches each, and will typically post the pool matches for the upcoming week. The minimum stake is R1, but you can add more combinations and the stake will increase proportionally.